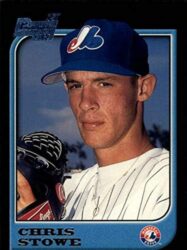 Chris Stowe
RHP, Stats When Drafted
"He is one of the most polished high school pitchers I have ever seen. He has a very high ceiling…his mechanics are clean and there are not too many glitches."

– Mark Leavitt, Expos Scout
Chris was born in Fredericksburg Virginia where he began playing organized baseball at the age of 11. Most of his earlier childhood was spent around ballfields watching his father play softball. His passion for the game is unmatched.
As a four-year starter at Chancellor High School Chris compiled a record of 33-4. He pitched 250 innings and had 345 strikeouts with a 0.94 ERA. His senior year he did not allow a hit until his third start. He threw 3 no hitters in high school, 2 perfect games in American Legion baseball and had no losing decisions after his first start sophomore year.
He was awarded First Team All-District, All State, All Metropolitan and All American. Chris was also named District and Metropolitan Player of the Year in 1997. His success was rewarded by being chosen in the first round by the Montreal Expos.
Returning home after injury ended his playing career, Chris had a desire to pass along knowledge and help other players reach their dreams. He has worked with countless amounts of players since that time. In 2012 he founded Pinnacle Baseball Academy. He has also worked as an Associate Scout for 2 MLB teams as well as Scouting Director for Dynamic Baseball.
"The passion I carried as a player has continued as an instructor; I am excited to continue to positively impact the players that I coach. I believe every player has a peak ability, unfortunately most players never find it. My job will always be to place the players that I work with on the right path, so they can find their true ability and peak."