Every Player Has Something to Offer and Something to GAIN!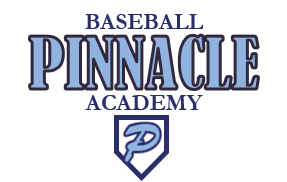 "The passion I carried as a player has continued as an instructor; I am excited to continue to positively impact the players that I coach. I believe every player has a peak ability, unfortunately most players never find it. My job will always be to place the players that I work with on the right path, so they can find their true ability and peak."
In January of 2013, Chris founded Pinnacle baseball to make a positive difference in the development of baseball players of all ages & skill levels, regardless of the teams they play on or the leagues in which participate. Starting on day-one, it will be ingrained in our participants to learn the value of earning their place through hard work, dedication and desire. Pinnacle baseball will cultivate the belief that EVERY player has something to gain, something to offer, and to never be satisfied with where they are right now in their development as a player. 
After running a highly successful travel program for 11 years, Chris' experience has taught him that individualized training accelerates development. The desire to impact and develop players has led him to specialize in individual, small group and team training. Over the years Chris has built strong relationships with college programs that will allow him to continue to guide the players he works with through the recruiting process.
Pinnacle Baseball has had a tremendous amount of success in working and developing many players. Chris has worked with and coached over 200 players who have gone on to play College Baseball. He Has coached and developed 3 State Player of the Year, as well as countless All-District and All-Area players. Since 2017, every player under Chris' instruction has had the opportunity to play at the collegiate level.
Pinnacle Baseball offers a wide variety of programs designed to give youth players in our area access to the best training facility, instruction, repetition, education, and overall baseball experience. We don't place all players in one mold but instead draw on their individual strengths and help address individual weaknesses. Having played professional baseball I understand what it takes to play at higher levels. Pinnacles philosophy is that EVERY player regardless of skill or age has something to GAIN.
– Pinnacle Baseball"Building your future one lesson at a time!"